Posted October 1st, 2009 by Don Cudd (aka Hoss)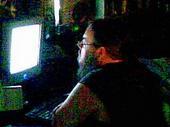 I'm Tony, and these are my October picks….
Show Schedule | Contest Rules | The Awards
Coy Moore Band – Baby Don't Want No Haggard Tonight (Buy, Dang It)
Coy Moore Band is from Lewisville, Texas, playing Texas Country & Southern Rock Music. They're a 7 person group, with Coy Moore on lead vocals and acoustic guitar, Jackie Moore on bass and vocals, Scott Cowen on lead guitar, David Norris on steel guitar, Mike Choat on steel guitar, Tracy Tyler on drums and vocals and Sean Dawson on drums. They have a self-titled cd that came out in 2005, from which I've chosen the song "Baby Don't Want No Haggard Tonight" as their entry in this month's contest. They're currently working on a live cd and hope to have it released soon, "so people can see what we look like when we perform", as they say in their MySpace blog. They also have some of their songs available for free download at www.coymoore.com…
Cross Canadian Ragweed – 51 Pieces (Buy, Dang It)
Cross Canadian Ragweed is from Oklahoma, Texas, and, as they say on MySpace, the United States, playing Southern Rock Music. They're a 4 man group, consisting of Cody Canada on lead guitar and lead vocals, Grady Cross on rhythm guitar, Randy Ragsdale on drums, and Jeremy Plato on bass and vocals. I've been a fan of CCR's for about ten years now, since I first saw them at the Executive Surf Club here in Corpus Christi, and heard them do "The Boys From Oklahoma". I even bought the cd that's on at that concert, and had it autographed by Cody, and have since entered it into the computerized rotation here on HTB, along with their entire discography. I got permission to play them from their manager, Shannon Canada, Cody's wife, who also gave me permission to play The Randy Rogers Band and Micky & The Motorcars. I've chosen a song from their brand new cd "Happiness & All The Other Things", (which I've also just entered into the rotation here), entitled "51 Pieces". It's a catchy tune about a car wreck, listen to the lyrics. By the way, Cross Canadian Ragweed will be performing here in Corpus Christi at The Brewster Street IceHouse on October 22nd….
Garfunkel & Oates – Fuck You (Buy, Dang It)
Garfunkel & Oates are a female singing duo from Los Angeles, California, playing Acoustic & Comedy Music. The duo consists of Riki "Garfunkel" Lindhome and Kate "Oates" Micucci. They have one cd out now, available on I-tunes, called "Music Songs". This cd had a number of tracks I would have liked to use, like "Pregnant Women Are Smug", "Sex With Ducks", "I Would Never Have Sex With You", and "Me, You and Steve", but I decided to use their song about a modern relationship called "Fuck You" for this month's contest. (Sorry, Mrs. Hoss & Astro the cat!) I do have their entire cd and will be playing it on my DJ show on Sunday nights here on HTB in a shameless effort to promote my own picks….LOL

)

Judge Parker – Louisiana Rain (Buy, Dang It)
Judge Parker is from Fort Smith, Arkansas, playing Southern Rock Music. (In fact, their mood update on MySpace the other day said "weRSouthernRock"!) The band got their name from the famous Arkansas hanging judge Issac C. Parker, who came from the same town they do. The band was formed by brothers Larry and Arthur Pearson who wanted to play southern rock with a country and blues flair. They have 3 cds available through Amazon.com, their self-titled cd from 2003, "Sound Medicine" from 2005, and their latest, 2009′s "Along For The Ride", which I've added to the rotation here on HTB, and from which I've chosen the song "Louisiana Rain" for their entry this month. I dare you to keep your toes from tappin'!!!

Kevin Fowler – Beer Season (Buy, Dang It)
Kevin Fowler is from Austin, Texas, playing Texas Country Music. Kevin leads a 6 man group, on lead vocals and guitar, Gary Herman is on bass, Tracy Martin on guitar, Ken Tondre on drums, Arty Passes on steel guitar, and Jason McBride on fiddle. Kevin started his first southern rock band "Thunderfoot" back in the 90′s, but is now concentrating on his own vision of Texas Country Music. He has 4 cd's available through Amazon.com, and sent me his new single "Beer Season", off his new cd scheduled to come out later in October, so I decided it would be good promotion for him to put "Beer Season" in this month's contest. Listen to the lyrics, it's hilarious. (It's also available for free download at www.kevinfowler.com…

Macon Greyson-Villains Kill Heros (Buy, Dang It)
Macon Greyson is from Dallas, Texas, playing Southern Rock Music. Thy're a 4 man group, consisting of Brian Bowe, Fred Kousal, Buddy Huffman, and Harley Husbands. (Yes, Hoss, there is no one in the band named Macon Greyson!) They have come out with 3 cds over the course of their career, and have just now released an EP that's gathering some critical acclaim, called "This Machine Kills Hypocrisy", from which I've chosen their song "Villains Kill Heroes" for their entry in this month's contest. They have 4 songs available for free download on their website, including their contest entry, all you have to do is visit www.macongreyson.com…

Michelle & Melinda – Maria – (Buy, Dang It)
Michelle & Melinda are currently in Nashville, Tennessee, playing Acoustic, Folk Rock and Indie Music. The girls have been playing together for years, and are now in the country music capital hoping to be discovered by an agent or a record label. I ran across them on MySpace and liked their music, so I sent them a friend request, asking for permission to play their music on HossTheBoss. They were all for it, and sent me 4 of their songs by e-mail, from which I've chosen their song "Maria" for this contest. They told me that Michelle, right after high school, was a motivational singer and speaker for over 15,000 youths about sex abstinence, and this song was inspired by stories they heard from teens on that topic across the mid-west. Now 22 & 23, respectively, they've auditioned for American Idol, CMT's Can You Duet?, America's Got Talent, and the crew of The David Letterman Show. They also told me they spent some time down in this neck of the woods, playing and singing for tips in Corpus Christi along the beach, and in San Antonio on The Riverwalk, where they were almost arrested for panhandling. They also said they'd like to come back here for some legitimitate gigs. Got any ideas, Hoss???

Romancing the Devil – I Wanna Go To Bed With You (Buy, Dang It)
Romancing The Devil (featuring Leigh Stenhouse) is from Greenville, South Carolina, playing Gothic, Acoustic and Lyrical Music. The only band member listed on their MySpace page is Leigh Stenhouse, listed as doing vocals, guitar playing and guitar hitting. Leigh sent me her "Romancing The Devil" cd, which I've now added to the computerized rotation here on HTB. She said that what you'll find on this cd is "a product of her obsessions, the road, travel, fast cars, old cars, going nowhere and everywhere all at once, and of being a woman". I've chosen her song "I Wanna Go To Bed With You" for her contest entry this month, and, yes, Cheryl, be warned, it does have some explicit lyrics. I'll be playing more songs from her cd on my Sunday nights show, if you're interested in her sound, like I am…
Scooter Brown Band –Lone Starry Nights (Buy, Dang It)
The Scooter Brown Band is a 4 man group from Montgomery, Texas, playing Texas Country & Southern Rock Music. After serving 4 years in the Marine Corps, including a one year tour in Iraq. Scott "Scooter" Brown returned to Texas, guitar in hand, and got his first gig playing in a smoky little sports bar in Spring called Big Daddys. His friend, Brandon Robelia, told the bar owner the name of the band was "Scooter Brown", and, even though, Scott didn't particularly like the nickname, it stuck. After adding bass player Mark Hernandez, and drummer Matt Bledsoe, the band was set and began making a name for themselves, until they grew big enough that Brandon Robelia had to quit to pay attention to his day job as a Houston firefighter. Chris Loring then stepped in as lead player, and the rest, as they say is musical history. They've just come out with a cd called "Between Hell & Texas", but haven't sent it to me, yet, so I've chosen an earlier song of theirs that I downloaded off Digital Rodeo, called "Lone Starry Nights", because you know how much I like songs about Texas! Hope you like it, and vote for it, too…
Scufflegritt — Southern Boys (Buy, Dang It)
Scufflegrit is a duo from Guin, Alabama, playing Country, Folk Rock & Acoustic Music. Scufflegrit consists of Jared Chaffin on guitar, vocals, banjo and mandolin, and Matthew Aston on guitar, vocals, harmonica and mandolin. The duo got their start at Jacksonville State University, playing gigs as "The Midnight Tokers". Recently, one of the members (and they're not saying who) joined the Army and is stationed at Fort Drum, New York, while the other is working in Mobile, Alabama. They haven't been able to perform together recently, but both are writing and recording music on their own. Scufflgrit has one cd out, "Lyin', Stealin' & Litterin", that is available through their website, www.scufflegrit.com, or for download on Ourtracks.com…

About Me:
I got started in broadcasting during my stint as a Signalman in the U.S. Navy during the Viet Nam era, working part-time as a DJ and newsman for a ship-board Armed Forces Radio & TV station on the USS Truckee out of Norfolk, Virginia.  After being honorably discharged in 1979, I became a mainstream radio DJ and News Director in the Corpus Christi area for over 25 years on 9 different stations, including all 3 of the country-western ones. During that time I received 4 news broadcasting awards, 1 from the Associated Press & 3 from United Press International. I spent the last 5 years of my "career" on KFTX in Corpus Christi, constantly fighting with the program director over having to play their narrow top-ten Nashville music playlist of songs, when I really wanted to play Texas Music. I was finally shown the door after I played a Christmas-time phone request for Robert Earl Keen's "Merry Christmas From The Family", which was definitely not on the station's playlist, (I really hate that word!). Now that I'm on HossTheBoss I can play what I want. Listen to my own dang show on the station every Saturday night at 7 p.m. Central.
My previous Hossey Music Award Picks
Please Support Hoss's Advertisers