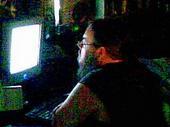 I'm Tony, and these are my April, 2010 picks…
Ashley Austin–Hot N Cold
Ashley Austin is from Grapevine, Texas, playing Pop, Rock & Texas Country Music. What can I say about Ashley Austin? I first ran across this 18 year old on MySpace, liked the songs she had up on her page, and sent her a request to play her music on HTB. She was all for it, and I entered her cover of the Maroon 5 song "Harder To Breathe" in last August's Hossey Music Award Song-Voting Contest, where she ran up against a buzz-saw named Steve Carlson. She did manage to come in 2nd, but I knew she was 1st place material, so I entered an original song of hers "To The Moon & Back" in September's contest, where she did come in 1st. She's currently working on her debut cd, with an as yet undetermined release date. I chose her version of the song "Hot N Cold", (also done by Katy Perry), for this month's contest. For more info on Ashley Austin, visit her MySpace page at www.myspace.com/ashleyaustinmusic, or her website, www.AshleyAustinMusic.net…
Downday is from Russellville, Arkansas, playing Rock & Country Music. They're a 3 man group, consisting of Christian Dean on vocals & lead guitar, Rockey Jones on vocals & rhythm & bass guitar, and David O'Neal on drums. I ran across this group on MySpace about a month ago and sent them a friend request, which they quickly accepted and then asked me how they could get their music played "on the Hoss". I told them, so they mailed me their debut self-titled cd so I could enter it into our computerized rotation, (and, Hoss, they also want to be included in the CD of the Day show that's coming up on HTB). I chose their song "Back In The Day" for their entry in this month's contest. It's a powerful song about a past relationship, listen to the lyrics. For more info on Downday, visit their MySpace page, www.myspace.com/downday…
Ghost Trains–Miss Emily
Ghost Trains is from Stoke On Trent, United Kingdom, playing Acoustic, Alternative & Folk Music. Ghost Trains is a 3 man group, consisting of Tim Ellis on guitar & vocals, Elijah Wolfenheart on guitar & background vocals, and Kramer on keyboards, drums & background vocals. They formed in the summer of 2009, and immediately began recording their debut cd "Where Lovers Die". Their sound has been described as "a blend of harmony vocals and woven guitars with often macabre lyrics betraying the ease and infectious nature of their melodies", and they've also been called "a darker, more English version of Fleet Foxes". They ran across me on MySpace and asked to join my friend's page. After listening to their music, I agreed and asked them for permission to play their music on HTB, which they quickly accepted. I then downloaded their cd for free from their website, and chose the song "Miss Emily" for their entry in this month's contest. For more info on Ghost Trains, visit their MySpace page at www.myspace.com/ghosttrains, or their website, www.ghosttrains.net…
John Nathaniel–For You
John Nathaniel is from Montreal, Quebec, Canada, playing Rock, Pop & Acoustic Music. John is a 26 year old singer/songwriter who also produces and mixes his own music. He also owns his own recording studio and works with other groups as a producer/mixer. He plays piano, keyboards, electric & acoustic guitar, bass, mandolin, and "a bit of drums". He says he was signed to a record label a few years ago, but decided to go Indie and bought his way out of the deal and "got his soul back in exchange". John now has 3 cds available through ITunes, his first "Shades Of Gray", his 2nd, an EP called "Crash & Burn", and his latest cd "Overdrive", which I've added to our rotation on HTB, and from which I've chosen the song "For You" for his entry in this month's contest. For more info on John Nathaniel, visit his MySpace page at www.myspace.com/johnnathanielmusic…
Judge Parker–Hell On The Border

Judge Parker is from Ft. Smith, Arkansas, playing Southern Rock, Classic Rock & Country Music. They're a 5 man group, led by Larry Pearson on vocals, his brother Arthur Pearson on guitar & background vocals, Lloyd D. Price on lead guitar, Steve Defresne on bass, and Vic Lukenbaugh on drums. They got their name from the infamous "hanging Judge Parker" from their hometown of Ft. Smith, Arkansas. While touring in Texas a few years back, the group met William
Lee Golden of the Oak Ridge Boys, who really liked their sound and is now trying to hook them up with his contacts in Nashville, New York and L.A. Judge Parker has shared the stage with artists like Johnny Cash, June Carter, Big & Rich, Shooter Jennings, Marshall Tucker, Chris LeDoux, Confederate Railroad, Kentucky HeadHunters, Black Oak Arkansas, Molly Hatchett, Foghat, David Allan Coe, and many more. They have 3 cds available through their website, their debut cd "Judge Parker", 2005′s "Sound Medicine", and their latest "Along For The Ride" from which I've chosen the song "Hell On The Border" for their entry in this month's contest. Listen closely at the beginning of the song (and don't talk over it Hoss!) and you'll hear John Wayne talking about the real Judge Parker. For more info on Judge Parker, visit their MySpace page at www.myspace.com/judgeparker…
Moonshine Bandits–Long Black Train
Moonshine Bandits are from Los Banos, California, playing Country, Rock & Rap Music. They're a 4 man group that I really don't know much about, because it doesn't say much about them on their MySpace page. I know their lead singer is named Big Tex, and they have 3 cds available through Amazon or ITunes. Their 1st, "Soggy Crackerz", came out in 2005, their 2nd cd, "Prohibition", came out in 2006, and their latest, "Divebars & Truckstops", was released in 2009. I've added "Prohibition" & "Divebars & Truckstops" to our rotation on HTB, and chosen their song "Long Black Train" as their contest entry this month. It's a sad song about a guy's grandmother dying, listen closely to the lyrics. It's a departure from their usual sound, which has been described as "half-country, half-rock, with a twist of blues & hip-hop". For more info on the Moonshine Bandits, visit their MySpace page at www.myspace.com/moonshinebandits, or their website, www.shinertv.com…
Pusher Betty is from Denton County, Texas, playing Texas Country, Southern Rock & Classic Rock Music. They're a 4 man band, consisting of Dave Cobb, Jason Harris, Danny Duncan & Ray Anderson, whose sound has been described as "Country Crack". On their MySpace page they list their major influences as "Miller Lite, Kentucky Deluxe, Jagermeister and CrownRoyal", all of which have influenced me a time or two, as well. They are currently working on their debut cd, but have sent me 4 of their songs as an exclusive HTB preview of it. Last month, I chose their song "Sand Box", which made it to #6 in the contest. This month I've chosen "Big Bone Betty" for their contest entry, and I hope ya'll will give it the votes it deserves to make it into the top 5. For more info on Pusher Betty, visit their MySpace page at www.myspace.com/pusherbetty . And, keep listening to HossTheBoss, because I'll be debuting their cd as soon as it comes out….
Ruby Jane–Beautiful You, Happy Me
Ruby Jane is from Austin, Texas, playing Roots, Texas Country & "Experimental" music. She is a 15 year old prodigy fiddle player, who started playing at the age of 2, after showing a musical inclination at the age of 1! She was apprenticed to a master fiddler in Mississippi at the age of 8, and then moved to Austin. She has appeared with acts like Asleep at the Wheel, Willie Nelson, Marty Stuart and Big & Rich. She is currently appearing in Asleep at the Wheel's stage production of "Ride With Bob" in which she appears as a young Bob Wills. Ruby Jane has 2 cds available, her first "Creekside" and her 2nd, "Live At RoadHouse Rags", on which she calls herself "The Ruby Jane Show". I've chosen her song "Beautiful You, Happy Me" off of "Roadhouse Rags" for her contest entry this month. It's also on the soundtrack of a new movie scheduled to come out later this year called "Mayor Cupcake". For more info on Ruby Jane, visit her MySpace page at www.myspace.com/rubyjanesmith, or her website, www.therubyjaneshow.com…
Ryan Bales Band–Moonshine
Ryan Bales Band is from Austin, Texas, playing Southern Rock, Americana & Texas Country Music. They're a 5 man band, consisting of Ryan Bales on lead vocals & guitar, Chad Dorman on lead guitar, Steve Gay on lead guitar, Scotti Iman on drums, and Ben Holt on bass. On MySpace, they say they're a "Southern Rock band out of Austin, Texas, who've been paying our dues for years, playing in honkytonks, shitholes and dives, and will continue to do so for the foreseeable future"! They have 2 cds available, "Revival" & "Survival". I've added "Survival" to our lineup on HTB and chosen a song off of it called "Moonshine" for their contest entry this month. I'll also be debuting that cd on my DJ show Sunday night, April 4th, starting at 7pm CT. For more info on the Ryan Bales Band, check out their MySpace page at www.myspace.com/ryanbalesband, or their website, www.ryanbalesband.com…
Seven Mary Three–Devil Boy
Seven Mary Three is from Ft. Lauderdale, Florida, playing Rock Music. They're a 4 man group, consisting of Jason Ross on vocals & guitar, Casey Daniel on bass, Thomas Juliano on guitar, and Mike Levesque on drums. Formed in 1993, while teenagers at the College of William and Mary in Virginia, Seven Mary Three took their name from the '70′s cult TV show "CHiPs". The band released 5 cds from 1995-2008 on Mammoth/Atlantic Records, before forming their own record label, "Settle Up Records", in 2008. They then re-released their debut cd "Churn", which had been long out of print, and then released an acoustic cd called "Backbooth". I've received permission from them to play the cds "Churn" & "Backbooth" off of their record label, but I can't play any of their earlier music because it's on the Mammoth/Atlantic label. I've chosen the song "Devil Boy" off of "Churn" for their contest entry this month. I'll also be debuting "Backbooth" on my Dj show, Sunday night April 4th on HTB. For more info on Seven Mary Three, visit their MySpace page at www.myspace.com/7m3, or their website, www.7m3.com…
About Me:
I got started in broadcasting during my stint as a Signalman in the U.S. Navy during the Viet Nam era, working part-time as a DJ and newsman for a ship-board Armed Forces Radio & TV station on the USS Truckee out of Norfolk, Virginia.  After being honorably discharged in 1979, I became a mainstream radio DJ and News Director in the Corpus Christi area for over 25 years on 9 different stations, including all 3 of the country-western ones. During that time I received 4 news broadcasting awards, 1 from the Associated Press & 3 from United Press International. I spent the last 5 years of my "career" on KFTX in Corpus Christi, constantly fighting with the program director over having to play their narrow top-ten Nashville music playlist of songs, when I really wanted to play Texas Music. I was finally shown the door after I played a Christmas-time phone request for Robert Earl Keen's "Merry Christmas From The Family", which was definitely not on the station's playlist, (I really hate that word!). Now that I'm on HossTheBoss I can play what I want. Listen to my own dang show on the station every Sunday night at 7 p.m. Central.
My previous Hossey Music Award Picks